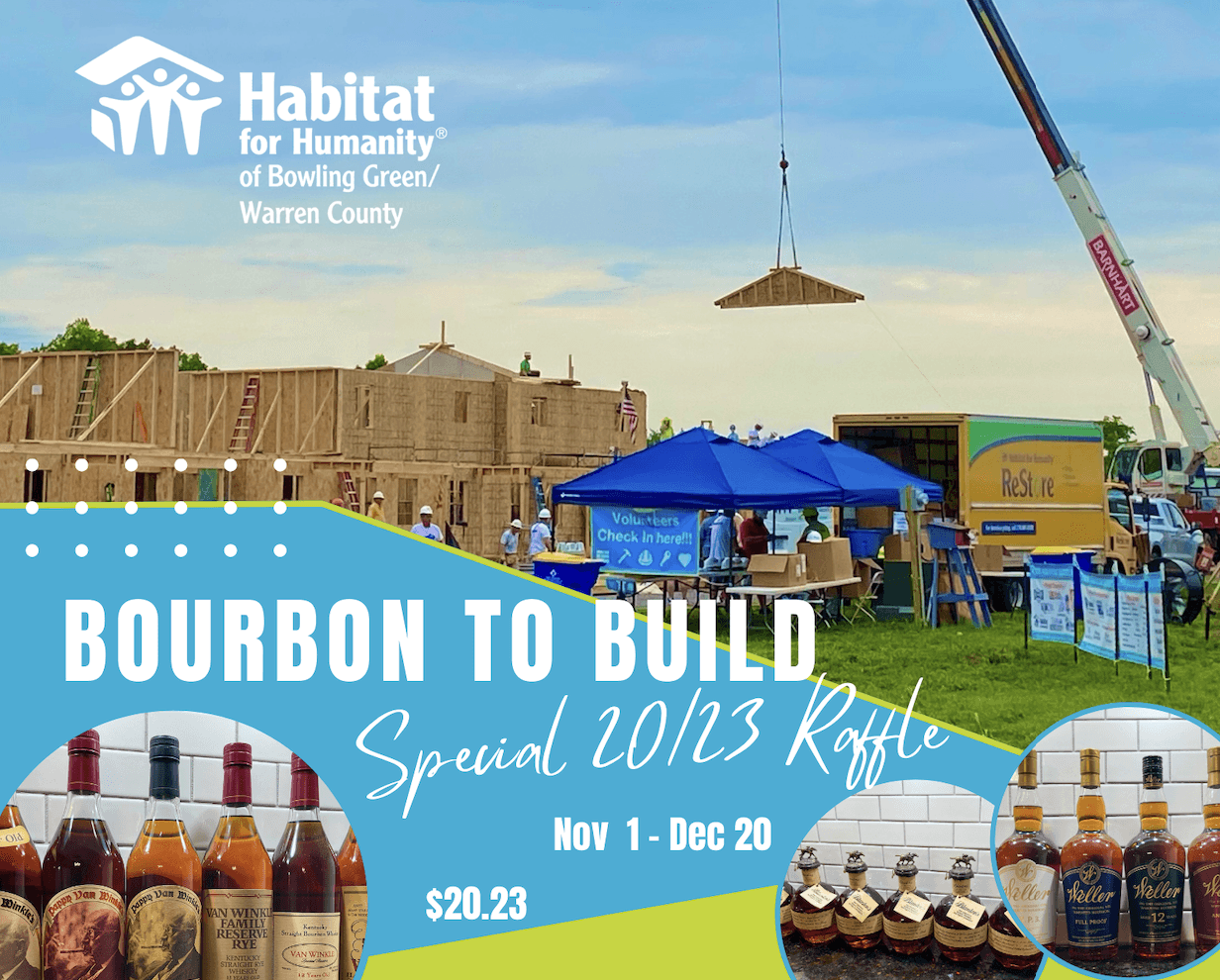 A "20/23" theme to close out 2023.
23 Prizes
Tickets only $20.23
Fundraiser supports continued Kentucky tornado relief and all of our work here in South Central Kentucky.
November 1st - December 20th
Drawing December 20th, 2023 at 12:00PM CST.
See below for a little about us, tickets, prize packages, ticket log, former winners, FAQs, and general raffle details.
---
---
A little bit of our story...
In 1990, a group of compassionate and concerned volunteers began to lay the foundation for all of the work that has been done in our community.  At the end of 2023, we will have completed 112 homes and worked with 185 families to provide homeownership solutions. In December of 2021, tornadoes impacted our state, significantly impacting the housing landscape of our community. Since then, our affiliate has built 20 new homes. Thousands of volunteers, staff members, donors, ReStore shoppers, raffle participants, partner organizations, and numerous others have empowered us to continue making affordable housing a reality in Bowling Green.
---
Special 20/23 Raffle Prize Packages
---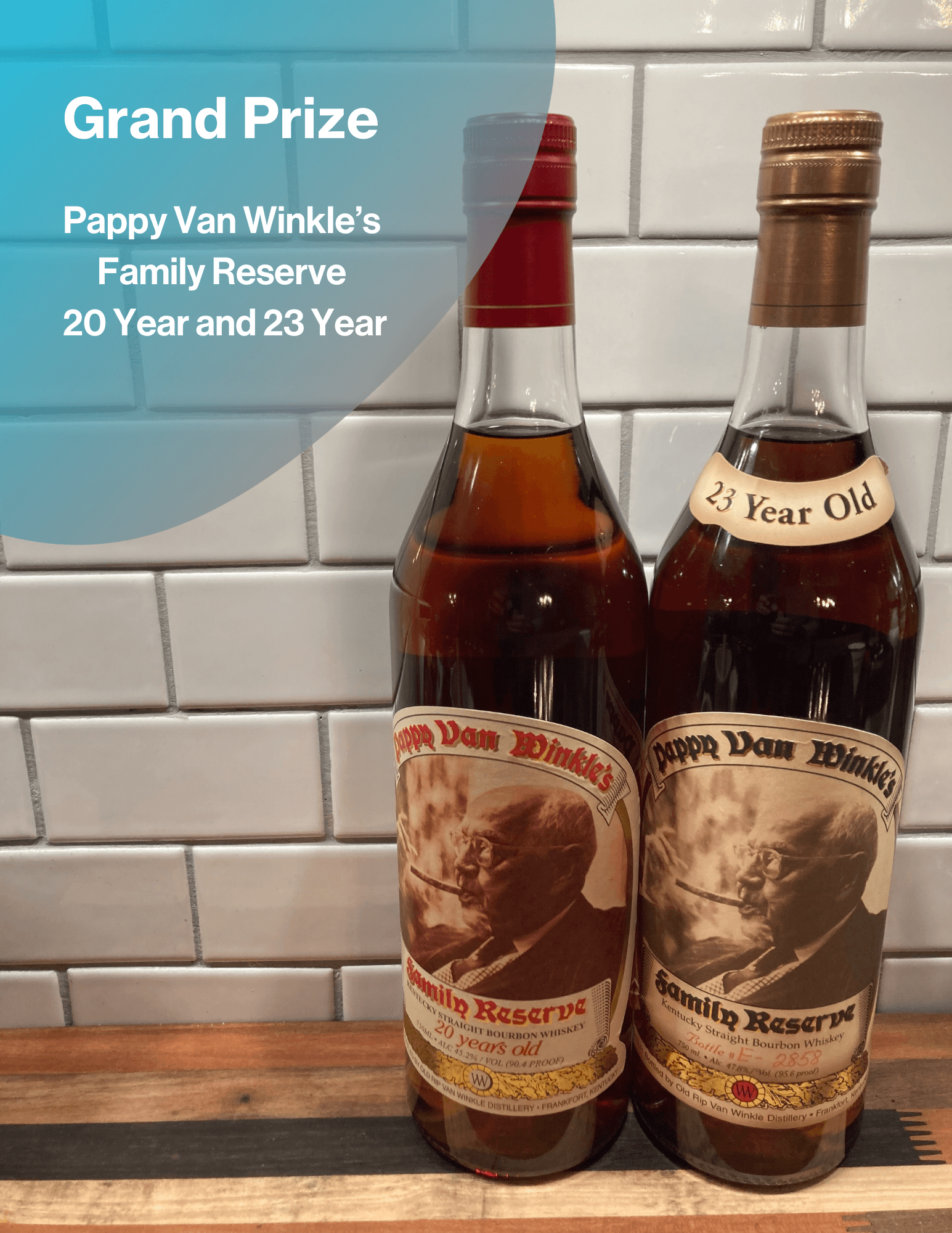 ---

---
---
States with Previous Raffle Winners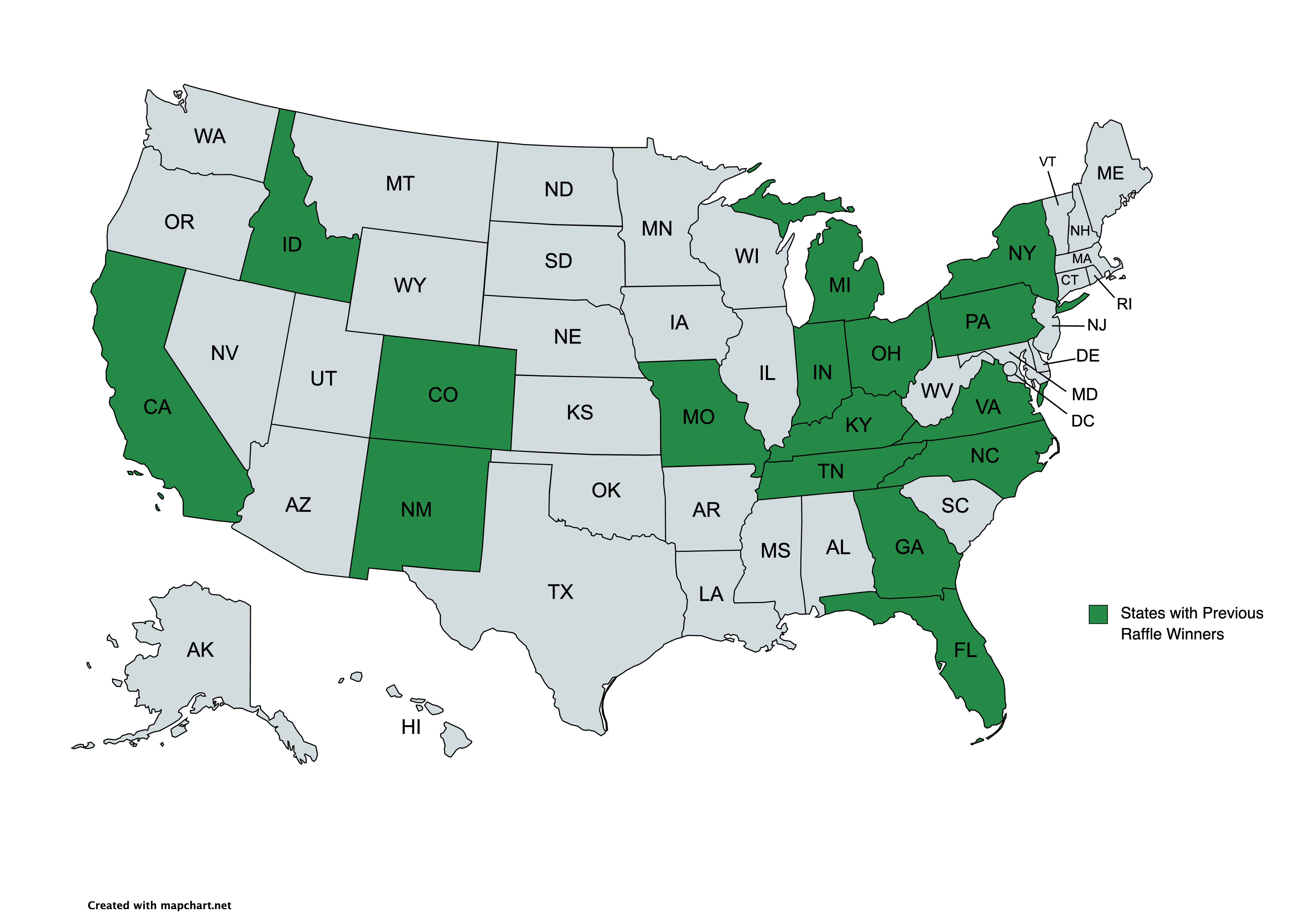 ---
Recent Grand Prize Winners
Previous Grand Prize Winners
2023 Spring Bourbon to Build Raffle Winner, Michael from Georgia (pictured on left or first), visited us in our offices. He was happy to support Habitat for Humanity and overjoyed to win the grand prize. 
2022 Bourbon to Build Raffle Grand Prize Winner, Kevin from Michigan (pictured on right or second), took the opportunity to visit Kentucky. Kevin told us he loved supporting Habitat for Humanity and was blown away when his ticket was drawn.
It's always a fun day to get to meet with our raffle winners and hear their stories.
---
Bourbon Raffle FAQ
Where does money raised from the raffles go?
Money raised from our raffles goes toward the building of Habitat for Humanity of Bowling Green/Warren County (HFHBGWC) homes. There are several expenses involved in organizing a successful bourbon raffle and we must take those expenses out of the total dollars raised. Examples of expenses include advertising for raffles, bourbon purchasing, materials such as tickets, and costs associated with delivery of bourbon to the winners.
Is HFHBGWC licensed to offer raffles?
Yes! HFHBGWC keeps a current Kentucky Charitable Gaming License (#ORG0002678) and is required to follow all laws and regulations associated with that license.
Is your bourbon donated?
We have received a few donated bottles of bourbon across our bourbon raffles. The bourbon we raffle is purchased by HFHBGWC. We must comply with state regulations that require our bourbon to be purchased from retailers, wholesalers, or distillers licensed in the state of Kentucky. We're always working to track down specific bourbon and travel throughout the state to purchase it.
Why are the winning tickets chosen from a tumbler instead of electronically?
Our Kentucky Charitable Gaming License requires us to use sequentially numbered paper tickets. We use a tumbler to draw winners from those tickets. We track the purchased tickets on the ticket log (visible on our website) and each ticket number corresponds with the numbered paper ticket. There is often a KY Charitable Gaming officer present during our drawing to ensure we follow the correct licensing guidelines.
How do the winners receive the bourbon?
In most cases, the bourbon will be insured and shipped through licensed partners of HFHBGWC, or delivered in person by staff, board members, or volunteers. We can ship/deliver to any US state EXCEPT Alaska, Hawaii, or West Virginia. Sorry West Virginia, that's a West Virginia thing, not our choice. Alaska and Hawaii just cost too much to ship or deliver. Some winners choose to visit our office and pick up their bourbon. Our staff loves meeting the winners!
Why bourbon?
Kentucky has a long and rich history of bourbon production, and it has become highly collectible and sought after. We put in the work to find collectible bourbon and those who value it enjoy having a chance at winning a bottle. In addition, housing is expensive. HFHBGWC receives grants and donations, but it's not enough to cover our community need. HFHBGWC bourbon raffles are our most successful fundraiser and help us provide affordable housing for those who would otherwise not attain it. We like to think bourbon collectors rest easy knowing that their raffle purchase makes a difference in the lives of families we serve, whether they win a bottle or not.
How do I know this is legit?
We're asked this question the most! There are lots of bourbon raffles on social media. We suggest visiting our website www.habitatbg.org to see if the raffle you see in your news feed is ours. Also, please feel free to call. We can be reached at 270-843-6027, or email at matt@habitatbg.org if you have any questions.
KY Charitable Gaming License #ORG0002678
---
Must be 21 years or older to enter and must reside in the contiguous 48 US States (excluding West Virginia). Tickets will open for purchase on Wednesday, November 1st, 2023 at 12:00 AM CST. Tickets will stop being sold at 10:00 AM CST on Wednesday, December 20th, 2023. There will be a LIVE drawing held on Wednesday, December 20th, 2023 at 12:00 PM CST at Habitat for Humanity of Bowling Green/Warren County, Inc. located at 804 Center Street, Bowling Green, KY 42101. You DO NOT need to be present to win. Drawing to be conducted live on Facebook at https://www.facebook.com/HabitatBG - winners will be announced at that time; there will be twenty-three winners. An email receipt for your purchase of raffle ticket(s) will be sent immediately. Ticket numbers will be displayed on the purchased ticket log on our website, physical raffle tickets will not be mailed. Receipt and/or transaction numbers should not be confused with raffle ticket numbers. A physical raffle ticket may be picked up in person by appointment, but is not required to participate. The winners will also be notified by phone and/or email no later than December 22nd, 2023. Items will be shipped/delivered, or be made available for in-person pick-up in Bowling Green, KY or surrounding areas upon request. In certain cases, the items may be delivered in person by staff, board members, or volunteers, with permission of the winner. No purchase limit applies while sufficient tickets are available; a maximum of 100000 tickets will be sold, although actual number sold may be significantly less. Void where participation is prohibited. All proceeds benefit Habitat for Humanity of Bowling Green/Warren County, a Kentucky 501(c)(3) non-profit organization.
Note: Habitat for Humanity Bowling Green/Warren County Employees and Board Members along with their immediate family members are not eligible for this raffle. Void where prohibited by law. Participants do not need to attend raffle to participate or win. Drawing may be conducted by staff, volunteer or board member of Bowling Green/Warren County Habitat; this process will be supervised by the Organization's Charitable Gaming Chairperson. Raffle will be conducted in Kentucky, in accordance with all applicable laws and regulations. Following announcement via Twitter/X, Facebook, phone, and email, the winner will be notified by certified mail and have 30 days to claim prize (if not otherwise responsive to our contact efforts). Contact matt@habitatbg.org for additional information.
KY Charitable Gaming License #ORG0002678