BG Strong Blitz Week Information
What is the BLITZ WEEK?
A unique volunteer opportunity in the early stages of the BG Strong Build. For five days we will be working from 8:00am to 4:00pm, with approximately 200 volunteers a day, to raise 10 townhomes from foundation to a dried in stage.
When is the BLITZ WEEK?
July 25th - July 29th
How to register to volunteer?
To register to volunteer with us during this blitz, click HERE and follow registration directions. Once registered you will receive a confirmation email, and you will receive correspondence from a staff member prior to selected volunteer date.
Is construction experience required to volunteer?
Construction experience is not necessary. During registration, you will be prompted to state your construction experience to best compose volunteer teams. Volunteer leaders will identify tasks and provide guidance to all skill levels.
What is required to bring on volunteer date?
Each volunteer MUST bring their own gloves. No other tools or PPE is required. If you choose to bring your own safety glasses, hard hat, or tools; be sure to label them with your name and contact information. There will not be any personal storage onsite, thus leaving other personal belongings at home is recommended.
What type of clothing is required?
Closed toe shoes are required to enter build sites. T-shirts will be provided on volunteer date. One t-shirt will be provided to each volunteer, and additional t-shirts can be purchased for $10 each.
Where to park on volunteer date?
Volunteers will be parking at Dishman McGinnis Elementary School at 375 Glen Lily Rd, Bowling Green, KY 42101. From there, volunteers will follow marked walking path to build site. Parking areas will be monitored by on site security during build dates.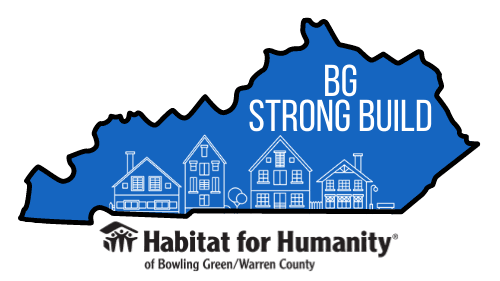 What time does the day start/end?
Each day will begin at 8:00AM with a brief registration period, on-site orientation, and devotion. Work day concludes at 4:00PM. Lunch and periodic scheduled breaks will occur throughout the day.
Is lunch provided?
Lunch will be available for purchase. Check back here for further details on lunch and pricing closer to blitz week. If you have dietary restrictions, or prefer to pack your own lunch please do so. Reminder: No onsite refrigeration or large storage area will be available.
Will there be restrooms on the build site?
Yes, restrooms will be available.
Can children volunteer?
No one under the age of 16 is allowed on site. For further clarification, not only can individuals under the age of 16 not volunteer, they are not even allowed on the site. Individuals between the ages of 16-18 need to bring signed consent forms located on this website.
Lastly, is this going to be a uniquely beautiful opportunity to help 10 families build strength, stability, and self-reliance through shelter?
Yes.
---
Check back to this page leading up to the blitz week for further clarification on specific items and updates. If there are any further questions you have at this time please e-mail those to Macie@habitatbg.org and someone will reach out.