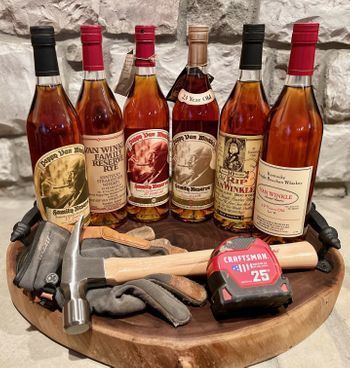 Bourbon to Build is a fundraiser for Habitat for Humanity of Bowling Green! We will be selling 1500 tickets at $100 each for a chance to win one of the following 5 great bourbon packages:
Pappy package – Total Value $9,495.00
Van Winkle Special Reserve 12 year
10 YEAR OLD RIP VAN WINKLE
13 YEAR PAPPY VAN WINKLE FAMILY RESERVE RYE
15 YEAR PAPPY VAN WINKLE
20 YEAR PAPPY VAN WINKLE
23 YEAR PAPPY VAN WINKLE
Blanton Package- Total Value $1,100
Blantons- O series cap
Straight from the Barrel- L series cap
Gold- N series
Black- S series
Red- O series
Weller Package- Total Value $498
Weller Special Reserve 1.75L
Weller 12 year
Russell's Reserve Package- Total Value $445
Russell's Reserve 2003
I.W. Harper 15
1792 Full Proof
Maker's Mark Package- Total Value $185
McKenna 10 year
Maker's Mark Limited Release 2020
Sazerac Rye
Each ticket purchased enables us to continue our mission of building strength, stability, self-reliance and shelter and assists in providing opportunities for families in our community to know the safety and security of having and maintaining safe affordable housing.
Charitable Gaming License Number #ORG0002678